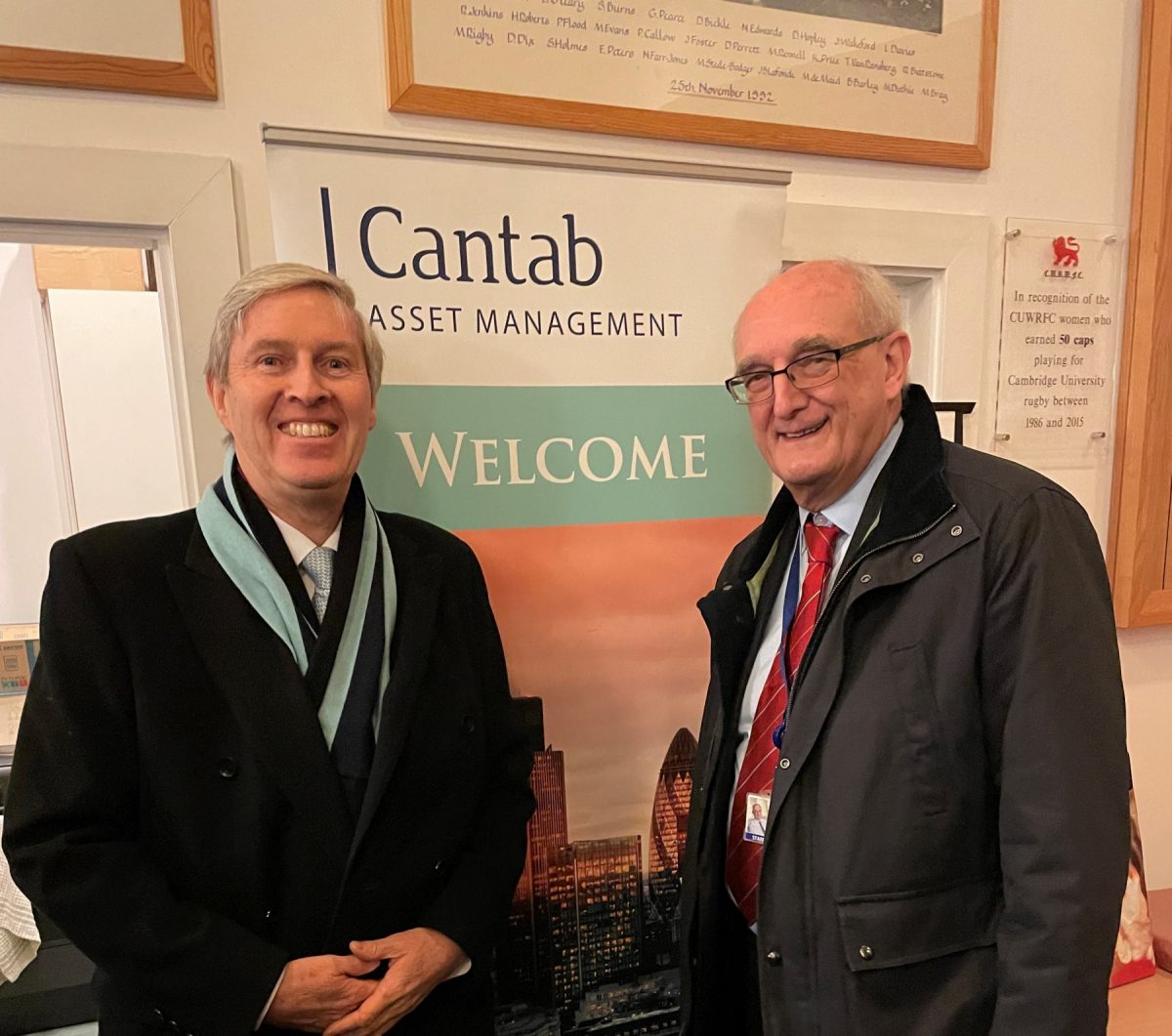 Professor Sir Leszek Borysiewicz FRA MA PhD FRCP MedSci (President of the Cambridge University Rugby Union Football Club) welcomes David Saunderson, Chief Executive of Cantab Asset Management, the sponsor of the Cambridge University 1st XV v The Steele-Bodger XV match. Following a distinguished academic and clinical research career and prior to his appointment as Vice-Chancellor at the University of Cambridge in 2010 until 2017, Sir Leszek's roles included Chief Executive of the Medical Research Council and Deputy Rector of Imperial College London. He currently chairs Cancer Research UK.
A thrilling match was held on Wednesday 24 November, a fine autumn afternoon, at the famous Grange Road ground, home of the CURUFC. Cantab Asset Management was proud to continue being the sponsor for such a great occasion.
The 73rd Steele-Bodger fixture, which returned for the first time since 2019, saw a 14-21 defeat for Cambridge to the Steele-Bodger XV in front of several thousand spectators.
Match Report
The Steele-Bodger team started well with Will Hodgson, 3 minutes in, capitalising on a loose ball in their own half and breaking through to almost score under the posts. After a few phases, Will Hodgson made sure to finish the job this time as he broke through Cambridge's defence inside the 22 to score. Matt Hodgson comfortably kicked the extra 2 points.
Despite it being an end-to-end game, there were no further points until near the end of the first half. Jamie Benson displayed outstanding agility when he received the ball inside the Steele-Bodger's 22 and then stepped inside three defenders to touch down near the posts. He converted his own try to bring the scores level.
Just before half-time, a quick tap penalty from the visitors saw Chris Wearmouth, the captain, crash over the line to take them into the lead before the break. Matt Hodgson converted to make it 7-14 to the Steele-Bodger XV as they headed into the changing rooms.
The second half was more attritional rugby and the forwards played a greater role in dictating possession and territory. It was only with ten minutes to go when Cambridge managed to break the deadlock in the second half. Andrew cut through the Steele-Bodger defence to dot down under the sticks – an easy conversion for Benson to bring the scores level again at 14-14.
In an exciting end to the game, Alex Froud, who was 'on loan' to the Steele-Bodger side from the university, displayed his power to score a brilliant try in the 74th minute. Will Kelly converted and the visitors held on to their 7 point lead in the final minutes to secure their first win over Cambridge University in around 20 years.
In an entertaining and well-matched game, Cambridge can take a lot of positives as they continue to work towards the Varsity match in April.
Cambridge University RUFC:
King (St Catharine's); Russell (St John's), Chibale (Queens'), Loveridge (Jesus), Andrew (Jesus); Benson (Downing), Holdroyd (Jesus); Collins (Fitzwilliam), Wright (Jesus), Pettit (Clare), Friend (St John's), Bischoff (St John's), Walton (St John's), Leonard (Emmanuel), Smeaton (Queens').
Replacements:
Parry, Jackson, Harris, West, Lloyd-Williams, Obembe, Favell, Odu, McIntosh.
Steele-Bodger XV:
Searle (Exeter University); Gatus (Old Haberdashers), Dussartre (RC Vincennes), Hyde (Durham University), Dowsett (Saracens Amateurs); Hodgson (North Walsham), Bell (Blackheath); Meek (Blackheath), Huppatz (Shelford), Scott (Heriots), Wearmouth (Tynedale), Lee (Worthing Raiders), Smart (Blackheath), Dass (Blackheath), Hodgson (North Walsham).
Replacements:
Haigh (Tynedale), Hilton (Barnstaple), MacCullum (Blackheath), Anthony (North Walsham), Kelly (Toronto Arrows).
Scorers:
9min W Hodgson try – M Hodgson (0-7), 35 Benson try – Benson con (7-7), 39 Wearmouth try – M Hodgson con (7-14), 70 Andrew try – Benson con (14-14), 74 Froud try – Kelly con (14-21).